Welcome to Our Company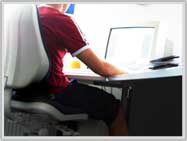 A company or organization that says it "hosts" websites is simply letting you know that a number of websites are stored on their server, which is a large, central computer system. When your website is stored on a particular server, this is where your domain name will send all visitors. Internet surfers from any location can type in your domain name (such as www.greatcompany.com) and be routed to the server that hosts your site. The host server will then allow the surfer to open the information on your site and explore.
For a company's server to host your website, you will usually need to own your own domain. While some ISPs (Internet Service Providers) will offer to give you free website on their server; these are not for commercial use. Read the fine print, and you will find that you can not use the free website "for profit or trade or to advertise goods or services." If you are using a free website, it will usually make the money required to host your site by posting their own advertising somewhere on your website in the form of a frame or banner. These sites will also include their name somewhere in the domain address, such as www.internetprovider.com/greatcompany. While this may seem less expensive in the short term, it creates a less professional image than having your own domain name, and ensures that you retain complete control of what appears on your website.
When you pay for a company to host your website, you will get exceptional service because this is usually the only thing the company does. By focusing on hosting websites, they continually improve their service and generally have more powerful, more reliable servers. If there is a problem, they will help you immediately because you are why they exist - you are not just a tag-along to a site that has other issues to manage.
Security with a paid host site is the best in the business, with plenty of features to protect your privacy and your company's information. Host companies will also help you set up and manage online stores and hidden administrative features that aren't available with a free ISP website. If you will be conducting business on the Internet through your website, paying a monthly or yearly fee to a hosting company usually is the way to go. It will give you professional, reliable service and peace of mind along with expert help whenever needed.
Below you will find sample prices (all jobs are custom and prices below are for example only)
PRICE does not including domain name registration and web hosting for one year.
---
Standard Websites
A custom design with no additional programming requirements. Cost largely depends upon how many pages the client requires, but typically a basic 4 page site will cost
approx €350 - €450
---
Additional Functionality
You may require a website that you can update yourself, or perhaps include a forum or guestbook for example - this is what we term as 'additional functionality'. Cost depends upon the number of pages and the functionality you require
approx €600 - €750
---
Database driven websites or Dynamic sites
If you need to store a lot of information and provide search facilities to your users, a database driven site may be required. A good example would be a property agency who would be able to add/edit/delete properties at will from a database that would also enable front end users to search the database for a property by area, location, price.
We have designed database driven sites for as little as €500, however due to the nature of this type of site please contact us for a quote.
---
Ecommerce Websites
Ecommerce websites, or online shops, cost slightly more due to the complexity of the programming. They require a database to store the products and the facility to process payments online through services like Worldpay or Paypal.
Our Ecommerce sites vary but may cost around €950
---
Custom Company Logo design
Our custom company logo designs range from €100. (each job is individual though and the cost will vary according the client's demands)
---
Web Site Optimisation
For details of web site optimisation prices please use our contact page.
STARTER PLAN
100MB Disk Space
7GB BW Transfer
30 POP3 Accounts
spam & Virus filters
FTP Access

PREMIUM PLAN
200MB Disk Space
12GB BW Transfer
60 POP3 Accounts
spam & Virus filters
FTP Access

BUSINESS PLAN
400MB Disk Space
25GB BW Transfer
120 POP3 Accounts
spam & Virus filters
FTP Access